Looking for affordable package of webdesign, with high standard features? Cebu's web designer may help your companies and individual business to have advance website for better presentation and sales. We are building a team to make it happen. Team "iScriptZ" create the websites by group, we research, and make the ideas. Every cebu web designer then combine it into web concepts to create the brilliant site with effective strategy. With five(5) years in freelance as Cebu web site designer and more than four(4) years on website business, we learn the total satisfaction from customers demand. We are capable to do website from scratch and add admin control for real-time updating the site in user friendly way.
CEBU WEB DESIGNER
As web evolve, we are now capable on mobile sites. We turn your website to be visible in iOS and Android. Are you worry about Animation? normally some device don't allow it but with our expertise as Web designer in cebu; we will make it happen. We are capable on scripting like javascript that is adoptable on device like iPad/iPhone. Your site is now ready to view on more device and be ready for more visits... and thier inquiry will be on your inbox soon.
by Oliver Gonzales
latest cebu web design projects
ASEEC
AS Enriquez Engineering Consultancy, (ASEEC) is a consulting firm servicing clients since 1996.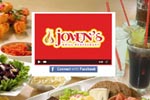 JovensGrill
JovensGrill.com offers an eat all you can buffet with Asian and American dishes
Worldwide Home Depot
Home depot - shop with inquiry form, Other project we have with them is thier AVP, you can check this video on our youtube account
---